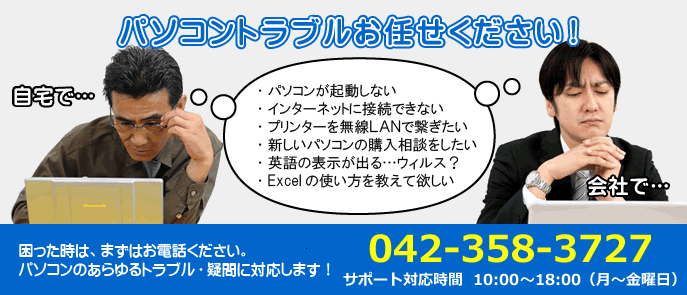 In case of computer trouble, call us!
We will solve any problems with your computer and computer peripherals! We will first ask you in detail about the current situation over the phone, and then either visit or have you bring your computer in.
Specialized staff will answer the phone, so you don't have to worry if you don't understand technical terms.
What is IT support?
Are you having trouble operating your computer, computer peripherals, or software?
We will solve any hardware or software issue, and help you if you have trouble with using your PC! We offer field support in your home or office—or you can bring you computer to us.
We deal not only with troubleshooting and repair of PCs, but also peripherals, data recovery, data transfer to a new PC, virus removal, Internet connection and printer problems, wireless network settings, help with operating software such as Word and Excel, consultation on computer purchases, and many more.
We're situated in Fuchu City, but we also accept customers in the suburbs of Tokyo such as Kokubunji City, Kunitachi City, Hino City, and Chofu City.
We await your call!
Service flow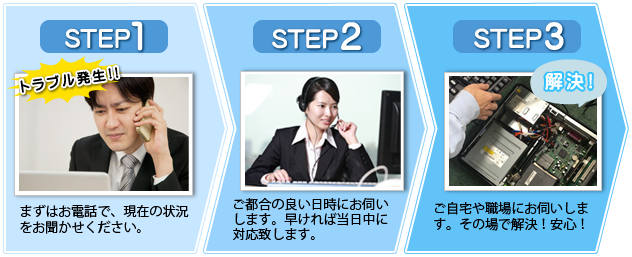 Price
Service fee
4,000 yen (tax not included) / 1 hour
(min. 1 hour, every additional 30 minutes is 2,000 yen (tax not included))
Dispatch fee
In case of visitation
All areas of Fuchu City and part of Chofu City: 2,000 yen (tax not included).
Other areas: estimates will be made case-by-case according to the required travel time.
We support suburbs of Tokyo such as Kokubunji City, Kunitachi City, and Hino City.
If you bring the PC to us
0 yen
Option fee
Certain services require an additional fee.
See the table below for details.
※Depending on the type of failure (physical damage to the monitor, hard drive, etc.), purchase of replacement parts may be required, in which case the problem may not be resolved on the spot. The support fee will still be charged, as a diagnostic fee.
Option fees
The following items are subject to additional charges.
Contact us for the details.
Service
Additional information
PC recovery
In case of dispatch, usual support fees will also be charged.
Creating recovery discs
Fixed fee, no time charge.
Data retrieval from a failed disk drive
Lower fee if retrieval fails.
Repair and parts replacement
Application installation
No additional fee for pre-installed software.
Virus removal
Fee is charged only if successful.
Memory expansion
Cost of parts + commission.
Connect to new WiFi network
Printer setup
Set up a LAN environment
(file and printer sharing, etc.)
Access, Illustrator, Photoshop,
HP Builder, Dreamweaver
Explanation of usage;
data processing and image manipulation are separate service
Yayoi Accounting
PC version only
PC transport
Price will depend on distance and weight
PC disposal
Not a purchase!
Recovery drive creation service
USB thumb drive included. See here for details.
WordPress
What is regular support?
We offer a value pack of regular visitation support and remote support!

By subscribing to regular support, you can keep your support costs down.
[Example] For a plan of 5,000 yen (+tax) per month for a 1 hour per month visit and 3 times per month remote support…
[Example]
① Visitation
One hour at a regular price of 4,000 yen (+tax)
Total

8,500 yen (+tax)

⇒ 5,000 yen per month
② Telephone / remote support
Three support calls at a regular price of 1,500 yen (+tax)
Please feel free to contact us for computer trouble and repairs, data migration, virus removal, and more in Fuchu City!
In addition to Fuchu City, we also accept visits to customers in the suburbs of Tokyo such as Kokubunji City, Kunitachi City, Hino City, and Chofu City!

前のページにはブラウザの『戻る』でお戻りください。